Well, hello! Welcome and thanks for dropping by! My name is Leona and I am 27 years young, born + raised in Indiana, attended Purdue University for Fashion Merchandising, and currently living in San Francisco.
I opened a photography business in college and love capturing raw moments. Growing up, and still to this day, I would dig through my Grammy's box of old photos and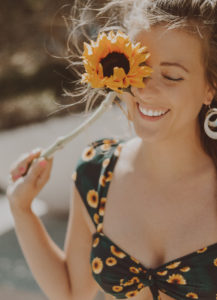 listen to her and my Grandpa share stories of their past. Looking at the images was always so captivating and told stories that made me both belly laugh and cry. 
I also have a burning passion for travel. I caught the travel bug long before I ever stepped on a plane. I remember looking through books and Google images of places that I longed to visit and I would imagine myself running through bamboo forests in Japan or watching the sunrise in front of the Eiffel Tower. I read this quote once, "The world is like a large book and those who never travel only read one page." And it's stuck with me ever since. 
This blog is my little corner of the internet that I hope it inspires you to travel, explore new cultures, love your body, and wear what makes you feel beautiful.  I hope this blog is a relatable, encouraging and fun place for you.
Thanks for coming along on the journey! I'm excited you're here. Xx